Laughs, merriment and fun – and this month it's for an amazing cause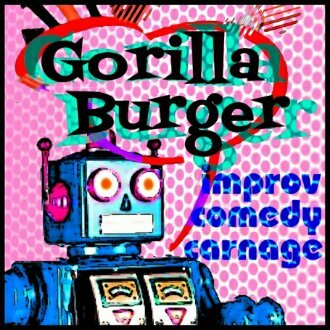 We're at The City Gallery with Gorilla Burger this Thursday with Eddie at the helm!
This is quickly becoming the most interesting event in our improv calendar – a place where Nottingham's improv scene can show off and experiment with funny, weird and new improv comedy.
Gorilla Burger will feature two MissImp teams performing improvised comedy and, in between, there will be loads of opportunity for ANYONE to get on stage and have a go.
And, this month, it's all in a very special cause. As some of you may know, our very own Nick and Marilyn lost their uncle this week in a tragic walking accident. In memory of Colin – one of our MissImp show regulars – all proceeds from Thursday's event will go to the Lochaber Mountain Rescue team.
Lochaber Mountain Rescue are a team of unpaid volunteers and do a stunning job at scouring massive swathes of Scotland looking for lost walkers and climbers. They rely on contributions from the public to carry on their lifesaving work and so there will also be a collection bucket if you'd like to make a donation to this brilliant cause. Read more about the work of the team here.
Tickets just £4 on the door. You should BRING YOUR OWN BOOZE (cos there's no bar)
The line-up:
7.30pm Obligatory fun warm-up
7.40pm NewsShite

8.00pm – 9.30pm (with a short interval) THE BIG GORILLA BURGER JAM
Anyone can play. Put your name in the hat and come up and do a scene (or a shortform game if you'd prefer). We'll pick names out of the hat and performers will get to try out playing with new people – or even playing for the very first time. No previous experience required.
9.30pm The Corner Street Blues

Feed Me Gorilla Burger
Date: 10th October 2013 at 7:30pm
(doors open 7pm)
The City Gallery
14a Long Row
(off Market Square)
Nottingham
Entry Price: £4 – all proceeds to Lochaber Mountain Rescue

Minimum Age: 18
The venue is just off the Market Square adjacent to The Works bookshop.