Gorillas In The Mist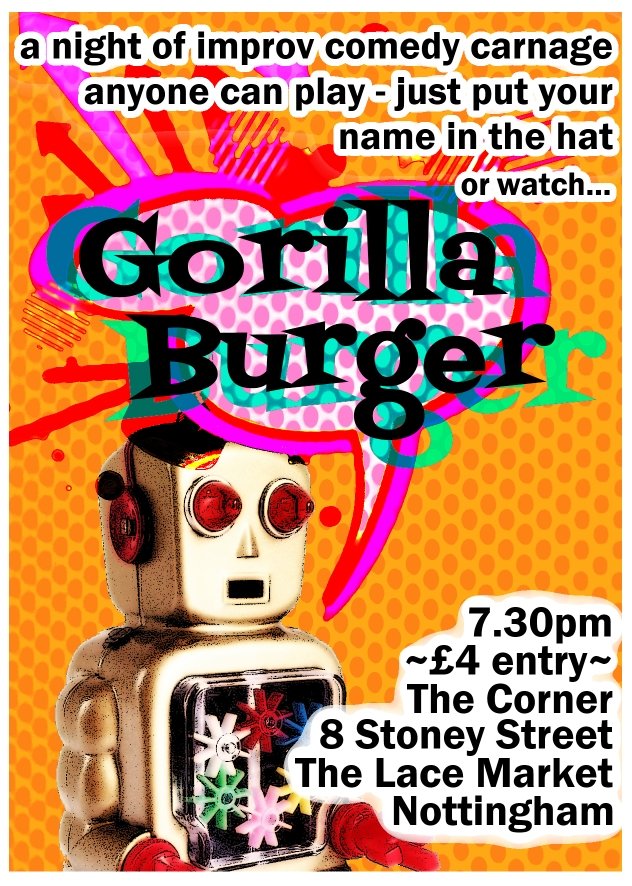 We're at The Corner with Gorilla Burger this Thursday!
This is quickly becoming the most interesting event in our improv calendar – a place where Nottingham's improv scene can show off an experiment with funny, weird and new improv comedy..
Gorilla Burger will feature three MissImp teams performing improvised comedy – and the second half is for ANYONE to get on stage and have a go too.
Tickets just £4 on the door. You should BRING YOUR OWN BOOZE (coz there's no bar).
The line-up:
7.40pm Segway
8.10pm Atomic Budgerigar
8.30pm The Fallen Angels
mini-interval
8.50pm – 10pm THE BIG GORILLA BURGER JAM
Anyone can play. Put your name in the hat and come up and do a scene (or a shortform game if you'd prefer). We'll pick names out of the hat and performers will get to try out playing with new people – or even playing for the very first time. No previous experience required.
Feed Me Gorilla Burger
Date: 8th July 2013 7:30pm
(doors open 7pm)
The Corner
8 Stoney Street
Nottingham
NG1 1LH
Entry Price: £4
Minimum Age: 18
The venue is at the heart of the Creative Quarter, opposite the Old Angel pub.