The Gorilla's Back Again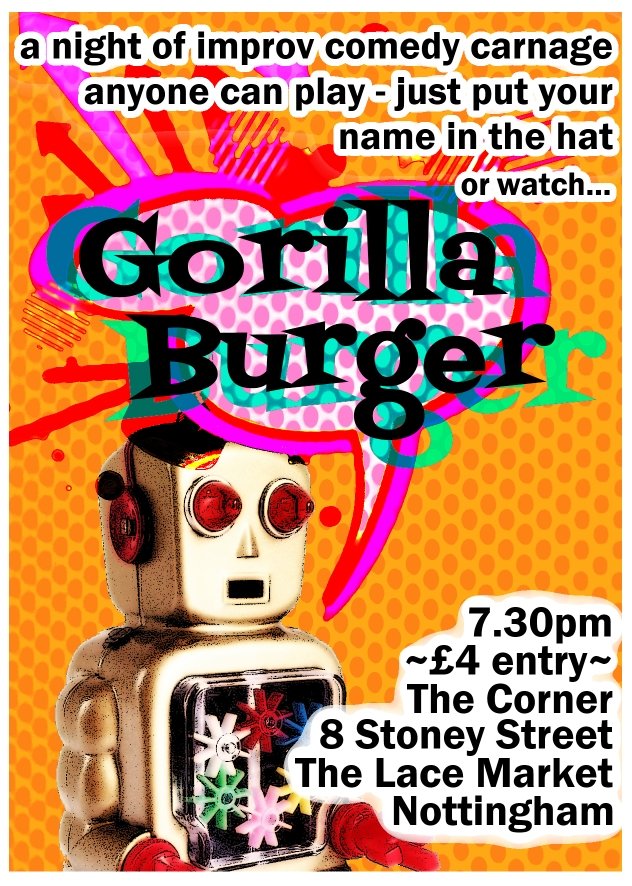 We're at 8 Stoney Street with Gorilla Burger!
It's going to be one of the most awesome comedy nights in Nottingham this June – and you can be there. Live, improvised comedy, the like of which you have never seen before.
Gorilla Burger will feature three MissImp teams performing improvised comedy – and the second half is for ANYONE to get on stage and have a go too.
Tickets just £4 on the door. First come, first served due to limited seating. We expect it will sell out by the 7.30pm start time. PLUS you can BRING YOUR OWN BOOZE (coz there's no bar) – bargain.
The line-up, compered by Dr Findell:
7.40pm Eddie's Top Stories
8.00pm Up and Coming Improv 1
8.20pm Bitchcock Kerfuffle
8.40 mini-interval
8.50pm – 10pm THE BIG GORILLA BURGER JAM
Anyone can play. Put your name in the hat and come up and do a scene (or a shortform game if you'd prefer). We'll pick names out of the hat and performers will get to try out playing with new people – or even playing for the very first time. No previous experience required.
Feed Me Gorilla Burger
Date: 11th July 2013 7:30pm
(doors open 7pm)
The Corner
8 Stoney Street
Nottingham
NG1 1LH
Entry Price: £4
Minimum Age: 18
The venue is at the heart of the Creative Quarter, opposite the Old Angel pub.