On Stage Comic Carnage This Thursday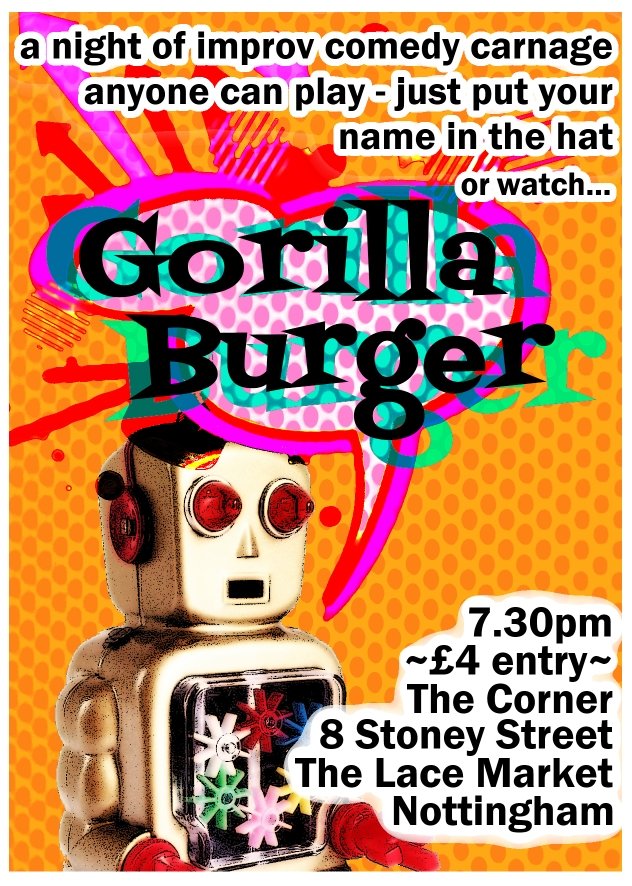 We're at 8 Stoney Street with Gorilla Burger!
Part jam, part show, this is a chance to get on stage and play. ANYONE can perform whether you have experience or not, whether you've ever improvised or not – or just come and enjoy the show. We want YOU.
Anyone who wants to play can throw their name into a hat and take to the stage when it's drawn out.
An opportunity to meet cool people, improvise on stage, see what improv comedy is and have fun.
For regular MissImp folk, please note that Gorilla Burger takes place instead of the weekly jam! 
Bring your own drinks!
Give Me Gorilla Burger
Date: 9th May 2013 7:30pm
Last Entry: 8:00pm
The Corner
8 Stoney Street
Nottingham
NG1 1LH
Entry Price: £4
Minimum Age: 18
The venue is at the heart of the Creative Quarter, opposite the Old Angel pub.