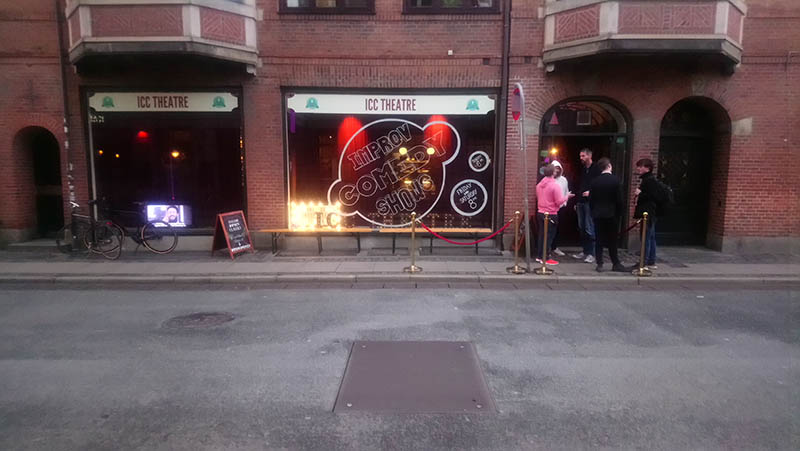 The Copenhagen International Improv Festival runs for a full week of workshops and shows. Alas, Five Chubby Foxes commitments meant I could only join from the Thursday, although this still left plenty to enjoy. The festival is based at and around the ICC Theatre in central Copenhagen, a lovely improv-specific venue with room for 40 or so seats.
This was my first improv festival, and given pandemic uncertainties, I had visions of the festival being a hundred Danes and me. Thankfully, it was impressively international, with at least twenty countries represented.
Unexpected musical improv
When you've travelled 583 miles from home, it's quite a moment to arrive at the improv theatre to be told that the workshop you signed up for has been cancelled… Thankfully, a day of musical improv was offered instead, which is rarely something I need persuading into doing!
Joshua Jackson of Showstopper! led A Day of Music and Play, which was a whole heap of fun with a lovely group. There was an ease to Joshua's facilitation, making people feel safe and able to take risks, while having a steady hand on proceedings. Wide smiles were commonplace in that room, though there was an impressively dark moment when an offer of "tunnels" prompted a refrain of "Lady Di!"
Now, it wasn't in the plan to break down and bare one's soul during a scene. But it is what happened. The amount of support that followed, though, was remarkable, hugely comforting, and quite humbling. And surprisingly, people appreciated the scene, and gave thanks for the vulnerability shown – most unexpected, though probably a signal that we should let more of ourselves come through on stage.
On a different note, one participant made the interesting observation that musical improv classes tend to have a higher proportion of women than other improv workshops. This was not something I was aware of, but it was neatly illustrated by the subsequent matinee performance; a showcase of a four-day workshop group consisted of just one woman with ten or eleven men. Eek.
Smorgasbord of shows
I sometimes feel a little inferior in the whole "having anecdotes" stakes. However, I guess it's a rare person in Nottingham who can claim to have laid their hands on a sweaty Dane; fewer still have done it in front of two hundred people. But there I was on the stage at the gorgeous Det Ny Teater, an audience volunteer directing Steffen's movements as part of the game Moving People. Which is a pretty cool theatre to have been on stage at…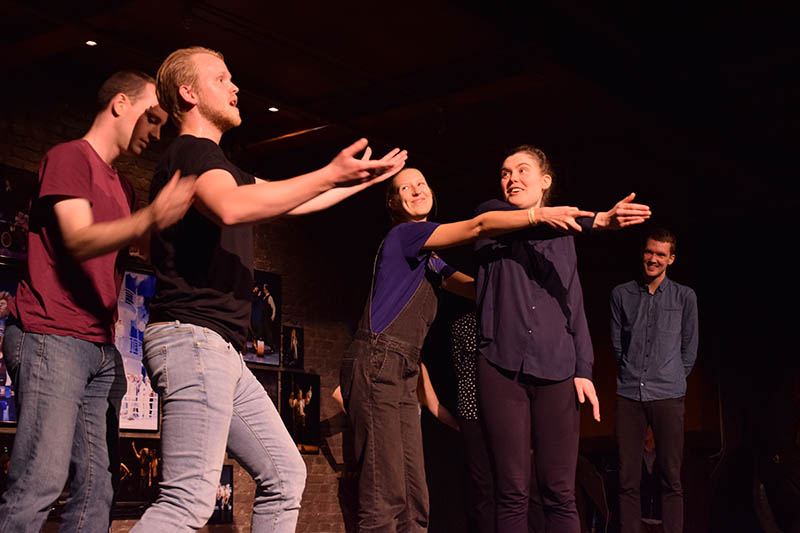 Indeed, the shows I saw across three evenings were a delight, and it was enjoyable to observe the range of styles and formats employed. The best show was by Murder of Crows, a film noir that told the story of some 1940s Chicago-based Egyptologists. Their skill, timing, and chemistry were transfixing, and the crowd lapped it up.
Meanwhile, the bravest format choice was that of No, I'm Fine from Bremen, Germany. An eight-person monoscene should be impossible to navigate, and yet they managed it with aplomb, making a show as enjoyable as it was impressive.
It was also refreshing to see some games played on stage, and played consistently well – across several shows. Radio Channels was a new game to me – an intriguing mix between TV Channels and Story, Story Die – and one that I intend to test out in Nottingham. Sex With Me is a game I tend to enjoy, and it provided one of the lines of the week: "Sex With Me is like aerodynamics; invented by the Germans, as part of the war effort…"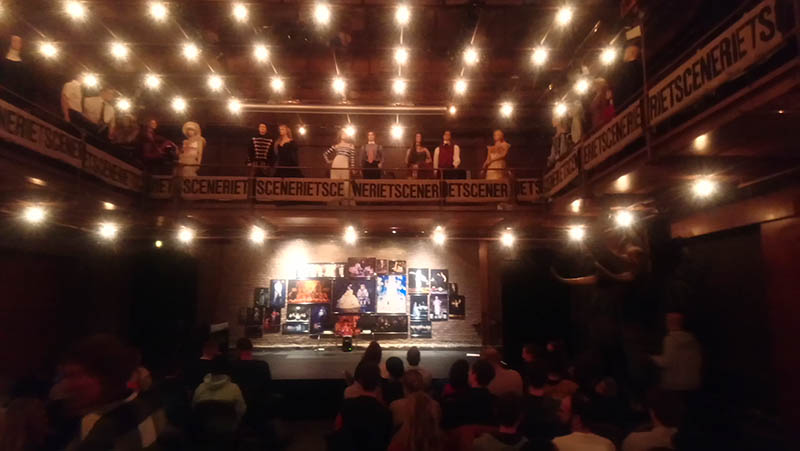 Emotional scenes
Maybe I'm demanding, but I go to an improv workshop to do as much improv as possible; teach me something to work on, then give me an exercise or scene to work on it. Sadly, if in two and a half hours, all I've actually done is introduce myself, win (naturally…) an elimination game of Zip Zap Zop, and a single three-line scene, I won't feel fulfilled.
Thankfully, at lunchtime I managed to upgrade to a two-day workshop with Billy Kissa, an actor and improviser from Greece. She taught us acting techniques around observation to read scene partners and create relationships more deeply. And my, there were some powerful exercises and scenes! The most powerful moment was probably the mirroring exercise; I had always known that a woman likes a man who can dance, but while following my partner's every movement, ceding all control and yet feeling perfectly safe and sensing a real connection, I felt I understood why.
Many of the scenes started with extended silence, and explored what was found during that time. These were typically engrossing for the watchers, and rewarding for the participants. On a personal note, it was pleasing that what fuelled my upset on Friday produced a beautiful metaphor on Sunday. If only such inspiration could be more reliably called upon! Nevertheless, this workshop showed the value of leaning into the emotions and behaviours of the actors, to drive the relationships of scenes.
Survivors' drinks
The festival closed with survivors' drinks immediately after the last workshops ended. This was the evening when everything seemed to come together for me, making me appreciate just how beneficial the trip had been. I felt a real sense of community and connection – a stark contrast to pandemic isolation.
An international crowd, connected by a willingness to drink outside in Copenhagen in October, the discussion was delightful and the laughter plentiful. We learned that the Greeks use the same word for bugle as for fallopian tube, and that while Brits wouldn't touch things with a bargepole, Danes wouldn't use a fire-groper. And it was quite an act of kindness when Billy put a second blanket on me, with the comforting words "There, you're double-bagged now."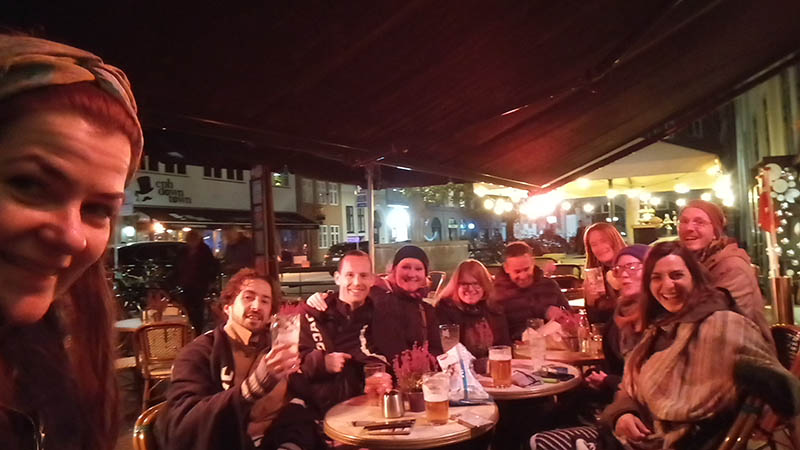 Some reflections
Socialising with other participants is what makes a festival more than the sum of its parts. Embracing people from all sorts of backgrounds, and learning from their experiences, styles and formats. Feeling like friends after only a few days of knowing people, hopefully to meet again one day. And the feelings of community, acceptance, and warmth that emanate from the experience.
Having a base for the festival makes a big difference, both for ease of logistics and for making friends. Without the ICC Theatre, the workshops and shows would have happened, but it would have been significantly harder to meet people multiple times in the week.
On stage, connection and rapport among performers really is vital for highly effective performance. It enables collaboration, provides sources of inspiration, and opens up deeper character relationships. Showing vulnerability and channelling your emotions endears you to the audience, and makes for more powerful scenes.
Copenhagen was a really good trip, full of fine experiences and fond memories. I'm pleased and proud I got myself over to it, and it's a huge thanks to Marius, Emma, and the team at ICC Theatre who managed to make the festival happen. I do recommend improvisers look into attending festivals when they get a chance!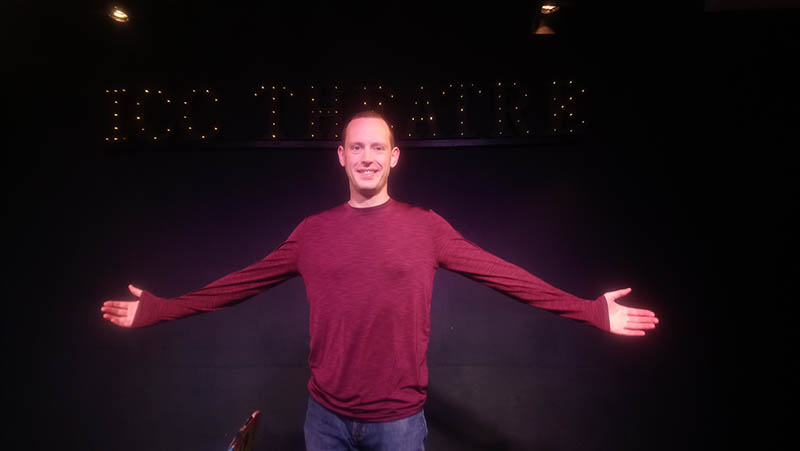 And on to the next comedy festival