Change is upon us, as in the rest of the world, and we need you to help make a difference.
Applications to join the MissImp exec have now closed. Thanks so much to everyone who's applied — we'll be in touch shortly!
Farewell, Emily!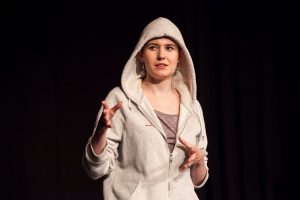 As of the beginning of August we are terribly sad to say goodbye to Emily Brady from the exec team. An ever-mounting PhD workload and other demands on Emily's time mean she's relinquishing her place on our exec. She has been a wonderful member of the team, pioneering (among other things) MissImp's first all-female improv team The Vortex, developing (and gaining funding for!) our All-Female & Non-Binary Improv Workshops, our lockdown programme of virtual drop-ins, endless behind the scenes work including planning the Nottingham Comedy Festival stages, the Glowstick Trials at the National Justice Museum, and just being generally awesome. It's not quite clear how we're going to manage without her… However, she's not going away any time soon – stepping away from the exec just unleashes her back into the community. Expect to see Emily at shows, courses and drop-ins as usual once the world starts back up again. 
From Emily
My past few years with MissImp have been fantastic, and I have felt so privileged to be able to shape this company. The reason I am leaving is that my PhD is entering its write-up stage, and following that my future is looking a lot more precarious post-COVID-19. Cuts across all of academia mean that many opportunities are narrowing, and I need to focus my attention on my future career now if I have a hope of having any security in future. Although I have loved working with MissImp, I need to shift priorities to safeguard my future – I risk splitting my energies between my PhD and MissImp, and not giving either the attention they need!
  Further to that, it looks increasingly like pursuing a post-doc after my PhD would take me out of Nottingham in September 2021, so it makes sense to replace me at the moment whilst there is a lower amount of improv activity, rather than at a busy point. 
  I have no plans to stop performing at or attending MissImp events, so you will still be seeing a lot of me!  I will be assisting in the transition for my replacement(s) however I can! And I wish Ben, Liam, Marilyn and Nick all the best for the future, I can't wait to see what they do next.
Join the MissImp Exec
In good news, that means we're doubly inspired to expand the group who organise and manage the MissImp community. We're looking for two or three people (maybe even more) to join the MissImp's Exec team.
The last few months have been bizarre for all us. The world has changed over lockdown and MissImp wants to change with it. This makes now the perfect time to join and put your stamp on what MissImp is as we bounce back from lockdown better than ever before. This is a great opportunity to help us shape up for the "new normal" in 2020 and shape our long-term future to support our ambition to be a community where anyone feels welcome to enjoy as much improv as they like.
If you join our team, there you'd be helping us to reach our two goals: 
To make MissImp an even more diverse and inclusive space and community to practice and perform improv in;

To create opportunities to enjoy this art form in a safe and fun environment – be that as an audience member, drop-in regular, member of a regularly rehearsing group, and beyond.
We believe this focus will enable MissImp to seek out new opportunities in performance and play, while growing our community and presence in the arts scene. 
Who are we looking for?
You, probably.
You don't need to be in a performance team, you don't need to want to perform, you don't need to have been around for years, or to have completed any levels of improv training. If you like to get involved and get things done, then we'd like to hear from you.

I

f you're passionate about improv and making MissImp a better, happier, and more inclusive place, then we'd like to hear from you.

If you're excited by social media and by the idea of marketing this cool and fun artform, we'd like to hear from you.

If you want to see other peoples' ideas succeed, enjoy exploring new opportunities, and working with others to achieve them, we'd like to hear from you.
In particular, we want to increase the presence of under-represented groups, such as women and non-binary folks, LGBTQIA+, and BAME people. We believe we haven't been proactive enough in the past in encouraging this in MissImp's leadership and believe that needs to change.  A greater range of voices making decisions will help to make a big difference in improving diversity and inclusivity throughout our community. 
What the role entails:
We can't pretend organising is entirely glamourous (though the MissImp Awards are a great chance to wear something fancy) there's definitely some scheduling, emailing and updating web things too! But it's a rewarding job giving back to a loving, supportive community. 
Pre-Covid we aimed to meet in person once every 6 weeks or so for a check-in and long term planning, and have found for most of our operations, working via Slack in the meantime allows us to work effectively while providing a nice flexibility for all involved. 
It takes a wide range of skills to run an organisation like MissImp and a wide range of voices bring diversity of thought and new ideas to help the community and artform thrive and grow. We hope that this will be the start of an easier and more transparent system that will enable our community to have a greater say in how MissImp operates.
Note: The position on the exec committee is at this point a voluntary role, and does not, at present, include any legal responsibilities for the company MissImp CIC.
How to apply:
The application process will be straight forward. Please complete the application form below, or click here to open it in a new window. The form will be available for three weeks (until 15/08/20). There will then be a week to sort through applications, after which successful applicants will be invited for an informal e-chat about the role. We will then make our decision moving forward. 
You can expect this to follow the timeline below:
18/07/20: Applications open.
15/08/20: Applications close.
17/08/20: Responses sent out.
w/c 17/08/20: e-chats.
 We can't wait to hear from you. If you have any questions please feel free to email us.