It's the middle of September, the days are starting to get shorter, the weather's a bit colder, and I've just started a 'real job' doing 'real things' in the 'real world'… By all accounts I should be a bit glum, and yet I can't stop smiling… "Why?" you ask… Well it's because next week one of my favourite humans is coming to town and taking over our lil' improv scene!!
David Escobedo relocated his whole life last year from LA to the UK for one reason – to do an M.A. in improv… I didn't realise that was even a thing until we met at the Birmingham Improv Festival last year in a workshop with Neil Curran. Since then, me and him have gotten to know each other pretty well – we even performed in a team at the Copenhagen International Improv Festival together! Over this time he has cemented his place as one my absolute favourite people to do improv with, mainly because of his infectiously positive attitude towards it (and pretty much everything else!)
Most recently, me and Emily were up in Chester (where David lives) and supported him in performing and delivering an improv show and workshop combo at a Creative Education conference. It was super fun, but my highlight is definitely watching him teach! He took a silent room of education professionals and in thirty minutes had transformed them into a giggling bunch of school children. Awesome!
I'm excited because it's the first time he's coming to Nottingham to teach and he's doing something that I'm more and more fascinated by – he's teaching forms!
David's home community in LA is known for it's huge variety of different style shows… From The Pack to UCB to the recently closed iO West, you had just about the biggest variety of improv shows you could possibly see in one city! The idea that David is going to bring three of the most successful formats from that scene and teach them in my little hometown fills me with such joy!
Over the last eighteen months we've really seen the Nottingham improv scene explode! With more people doing it, new groups forming, new courses being written, new teachers stepping up… All yielding ever more shows in bigger and more interesting venues, it feels like a really exciting time to be improvising in Nottingham and I think these form workshops could be the next big step for our little community!
I hope to high heaven that folks will learn these forms and take them on themselves! Make them become a piece of that wonderful, growing landscape that is the scene in our city! Maybe, if I wish hard enough, new teams will form out of these classes and we'll see what our effect our city and our scene will have on these successful forms… Maybe we'll see folks play with a Likeable at a Smash Night, or experiment with The Onion at a Gorilla Burger?!
I've been all around the place seeing and doing improv and I do believe we have something special here… I can't wait to see what happens when the awesome folks within our wonderful scene are given these new tools to create fantastic improvised shows by a great teacher.
So yeah, I'm excited for next weekend. I can't wait to see you in class and on stage!
Thursday 19 September
Friday 20 September
Improv Workshop with David Escobedo: The Slacker! – sold out!
Saturday 21 September
Improv Workshop with David Escobedo: The Onion!
Improv Workshop with David Escobedo: The Likeable! – sold out!
Improv Nonsense showcase at Nonsuch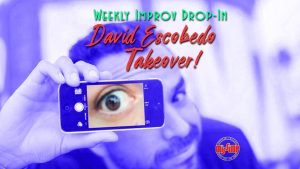 Sometimes we feel frantic in scenes when we feel the "need to be funny," as if the success of the show rests on our shoulders.
Read More »