Sometimes we feel frantic in scenes when we feel the "need to be funny," as if the success of the show rests on our shoulders. The reality is that you just need to throw all yourself into the small percentage of the show you have power over. The other 90% belongs to the team and support. This workshop deals with that ensemble work that looks so great onstage.
We'll be talking about the seven major moves that teams can execute to Support the scene and give it Context. Soundscapes, Canadian Cross, and others. These are not the only moves, they're just the SCOOTS (mnemonic device).
Only 20 places available for this drop-in –

reserve your place now.

We don't normally do this for weekly drop-ins, but we expect a bunch of people are going to want this opportunity with our guest teacher, so places are limited to 20 only – reserve in advance if you want to be there. If you're already taking all three of David's workshops over the next few days, please consider letting someone else attend the drop-in instead. 
*Please note that this system is just to reserve your place. We'll take payment on the night as usual.

David Escobedo has been coaching/performing improv since 1995. He began a team right outside of high school called "The ORPHANS" which ran for 13 years. Since then he's directed street mime troupes that have broken into Christmas Parades and performed with The Mortified Guide available on Netflix. Having just moved from Hollywood with his wife and two cats, David is finished up his MA in Drama with an emphasis in improv. His MA paper was on the individual improv performer's voice being the most valuable thing to bring into the show.
Friday 20 September
Improv Workshop with David Escobedo: The Slacker! – sold out!
Saturday 21 September
Improv Workshop with David Escobedo: The Onion!
Improv Workshop with David Escobedo: The Likeable! – sold out!
Improv Nonsense showcase at Nonsuch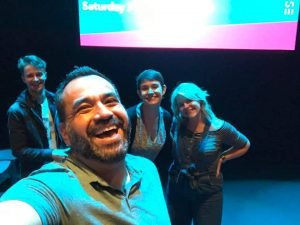 It's the middle of September, the days are starting to get shorter, the weather's a bit colder, and I've just started a 'real job' doing
Read More »