Here's the second part of my experiences training in workshops with Phillipe Gaulier over five days at Trestle Theatre in July 2019, read part one here.
Thursday
Something I haven't mentioned is the game we played at the beginning of each day. You all walk around following instructions, but only if they start with "Samuel says". If you mess up, your penalty is to ask someone for a kiss on the cheek. If you pretend you're innocent and get caught, you have to get twenty. If three people decline you, you go to the front, bend over, and get slapped on the back by Phillipe (it doesn't hurt, but it's more entertaining to pretend it does). I not only got dobbed in by one of the bloody event organisers, but failed to get my kisses and got a slap. I think that humiliation gave me a burst of confidence, as the next thing that happened was truly weird.
We played the rope jump game again. The two "good" groups went first, then it came to the "graveyard" group. I was determined to not be sent to the even worse "crematorium" group. The rope swung, I tripped on it, and went to the back. On my next turn, I tripped, went to the back again. Third time, tripped again.
"Give me another go." I said. They swung it, and I tripped again.
"You have to go to the back." One of the organisers told me.
"No. I can do it. I can do it. Swing the rope!" I said.
"You need to go to the back."
"I can do it. I can do it!" I was shouting now. "SWING THE ROPE! SWING! SWING! SWING!" I was screaming at the top of my voice and jumping around like I was insane. I felt out of control. I heard my team and everyone else cheering and clapping. They swung the rope. I jumped it successfully and heard a huge cheer. "You see?" I shouted, still at the top of my voice, "I told you I could do it!"
"We'll take a break now," said one of the organisers. I sat down and did some embroidery, shaking from head to toe.
Later I was talking to one of the organisers, the one who dobbed me in during Samuel Says.
I said, "If I had done that anywhere else, the teacher would have said 'get out'."
He shrugged. "Bad teachers." He said. "The education in this country is terrible. You train for exams, and you have to do everything in the proper rigid way and then it's over. From the moment I denounced you in Samuel Says you went on a journey. You weren't told to do that thing with the rope, you just did it. You offered something huge and won over the whole auditorium. That's exactly what we're looking for in this work."
I thought I was going to get a stern talking to or even be asked to leave, but to be encouraged was astonishing.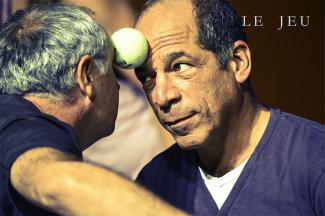 Friday
Today, I became the most frustrated I was all week, but also learned the most. I played a tag-rugby game with one other student. We hung neckties at the back of our trousers and had to try and grab our opponent's necktie, maintaining eye contact. I was overambitious and shortly my tie was seized.
"Now," said Gaulier, to my partner. "You must tease her with the tie."
My partner waved it in front of me. I slowly walked forward, and yanked it back. Then it was my turn to tease. I started. Bom-bom! went Phillipe's drum. "Stop. You broke the game. Now he gets the tie." Me and my partner went back and forth, but always, when I had to tease, I got the bom-bom! for breaking the game. Eventually, we were asked to sit back down. I was incredibly angry with myself. All I had wanted to do was just play the game, and I had kept fucking it up before we could get into a flow.
At lunchtime, I spoke to my partner.
"I'm sorry I kept breaking the game. I didn't understand what I was doing wrong and I think we both could have learned something if I had done it right. I apologise."
He smiled at me.
"I think your problem was you kept trying to win," He said. "and not to play. You didn't want to risk it."
"But we could have learned better if I had done the game right."
"No, not at all. That's what you learned."
After lunch, another simple exercise. A group of us lined up on the back wall and were asked to walk like a model to the front of the stage, turn, then walk back. First we went as a group then as individuals. It was my turn. After a few seconds, bom-bom!
"You need to smile more," said Phillipe. "You look like a member of the Salvation Army." Back I went, and tried again. "Some text as well please," he said. I improvised something about a hotel room, before- bom-bom! "Smile with your body. And do not speak at the same pace as your walk, or you say the text twice. Next time, take more risks. Thank you."
Soon after that, the last day came to a close.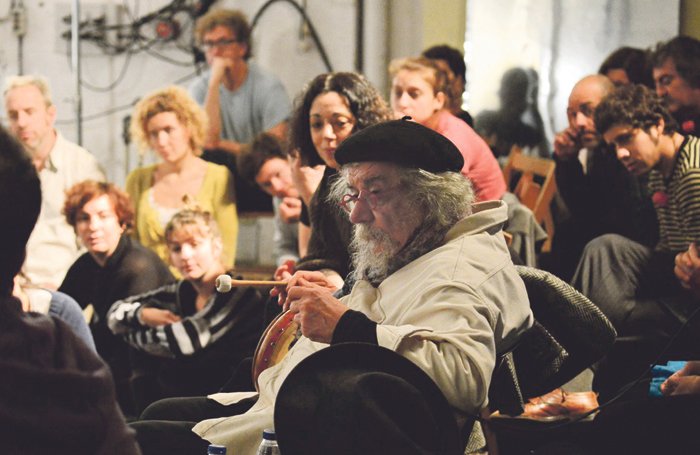 Conclusionday
So what have I learned? Phillipe's teaching is hard work. He rarely gives you the answers, and when he does, they are not necessarily useful. We were never given a lesson plan, or even an explanation of the themes for each day, or learning outcomes, except "don't be shit". He tells you you're boring, humiliates you, and you have to fail over and over and over again. And, for me, that was enlightening and actually boosted my confidence. It was so bizarre to have no welfare talk at the beginning, and a teacher who could be so rude and harsh, but to also feel totally safe and filled with energy. For others, I can understand it might be total hell. But to be boring for a moment, here's what I feel I learned.
Have interesting eyes
Enjoy being on stage, and don't be afraid to show everyone you enjoy it
Don't let your words kill your movement
Smile with your body
Play to risk, not to win
Don't act on the stage in the same way you would act on the train
Learning is at its most powerful when it comes through failure and embarrassment
There is no one-size-fits-all method for learning
Note: I don't want to give the impression all improvisers should follow this, because, of course, there is no one-size-fits all for learning. Also, I am training to work in theatre, and my motivations for performing may be different that yours. Phillipe teaches at Trestle Arts Theatre every year in July, so keep an eye out for when the next opportunity comes around if you're interested. Thank you for reading.