This week's jam: The Gift of Giving

The jam is brought to you by Parky.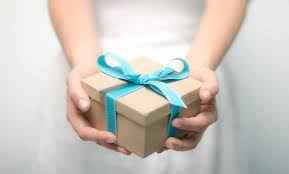 There is one key aim of improv that sometimes we tend to forget:
"Your job in a scene is not to look good: it is to make your scene partner look good."
The easiest way to do this is to be collaborative and to give your scene partner gifts. If you ask "Who are you?" (a terrible choice) you throw 100% of the responsibility for the scene onto your scene partner's shoulders. They have to do all the work.
Imagine if someone did that to you in a scene. You'd be annoyed that your scene partner had abdicated all responsibility for the direction of the scene.
Instead, what if you gave them a gift. What if you said "Oh, Susan, you know that I love coming to your bakery because you make the finest scones this side of Huddersfield"? What does your scene partner have to do then? Nothing. They just have to listen – and then be Susan, the best scone baker this side of Huddersfield. That bit is easy.
Our aim in the jam is to be nice to our scene partners and to provide them with gifts. Help them out, and they might help you out too. Use names, imbue character detail, get to the nitty-gritty of "who, what, where" quickly.
No-one remembers whether you were any good in a scene – they just remember whether the scene as a whole was any good. Let's remember that, and work together to bring joy.
Thursday 17 November 2016

7.30 – 9.30pm
The Malt Cross
We're under the main bar – the doorway is inside, just to the left of the actual bar
16 St James's St
Nottingham
NG1 6FG
Find it!
£5 / 3 concessions