Millions of Voices – Star Wars Improv show has world premiere this February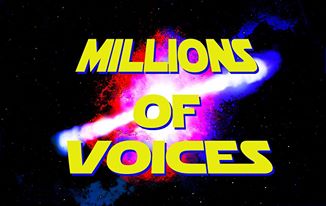 Here's your chance to see a brand new Star Wars based improv show from the lovely folks at MissImp. Millions of Voices is a completely improvised show telling the story of everyday folk on the doomed planet of Alderaan and will have its world premiere at Dave's Leicester Comedy Festival on Tuesday 9 February 2016.
A long time ago, in a galaxy far, far away, a peaceful and populous planet thrived. Alderaan was renowned galaxy-wide for its unspoiled beauty, refined culture, and commitment to peace.
Home to heroes including Princess Leia and Bail Organa, Alderaanian culture valued education, the performing and fine arts, and peaceful resolutions to conflicts. Home to many poets and philosophers, this beautiful planet was also renowned for its stunning cuisine, producing some of the best food in the galaxy.
Of course, Alderaan was also the first strategic target of the Death Star and where Grand Moff Tarkin chose to test the space station's 'destructive power'.
In the world premiere of this touching and funny show, you'll meet normal Alderaanian people as they go about their lives, completely unaware that the Empire is about to blow their planet to smithereens.
Taking inspiration from audience suggestions, Millions of Voices will be a completely unique experience.
Tickets are available now, priced at just £7 (£6 concessions). It's not the biggest venue, and so booking your tickets in advance is highly recommended. You can do this via the venue website:
http://upstairsatthewestern.com/shows/millions-of-voices-improv-on-alderaan/
For more information, get in touch with us by emailing missimpnottingham@gmail.com