Ten Thousand Million Love Stories
A Show About Love
On Sunday 2nd March Heather Urquhart and Jules Munns from the award-winning Brighton improv company The Maydays will be performing their two person improvised play Ten Thousand Million Love Stories in Nottingham. It's already attracted some pretty awesome reviews:
"The perfect balance between realism and comedy slapstick, these two comfortably jumped from one character to another, without ever losing their flow. The show was as funny as it was impressive" Brighton's Finest

"Clever, complicated, and relevant, made by people who practise a lot, and have the kind of spirit which drives them to do what terrifies most people. Like making up an entire play on the spot. And not just a play, but an interesting creative adventurous play, that isn't like any scripted work I've ever seen. Could this be the future of comedy?" Fringe Guru

"If you get the chance to see Munns and Urquhart, go. They gave a master class in storytelling, exposing the ups and downs of relationships and how everyone both succeeds and fails in their labour of love." Intermission, Bristol
It's going to be a beautiful evening. Heather and Jules are remarkable actors and improvisers and Ten Thousand Million Love Stories is an unmissable event. Their show is preceded by a performance which includes local improvisers in their Fancy Pants Jam.
Sunday 2nd March
6.30pm Fancy Pants Jam
7.30pm Ten Thousand Million Love Stories
Entry: £5
The Corner (home of LeftLion)
8 Stoney Street
(off Broad Street)
Nottingham
http://www.leftlion.co.uk/the-corner/
https://www.facebook.com/events/502130516564097/
Workshop: Naturalism and Intimacy in Improv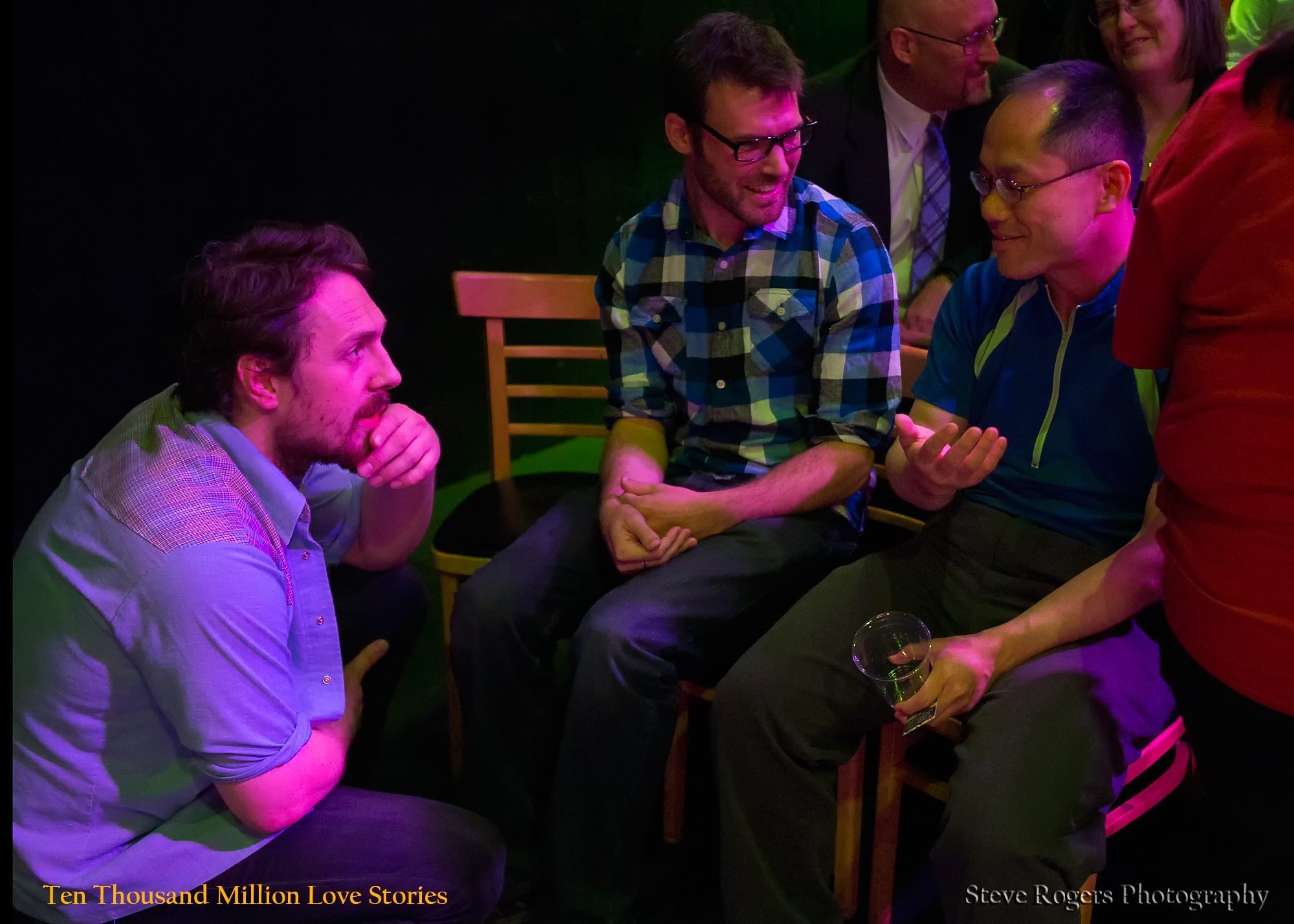 Want to take your onstage relationships to the next level?
Interested in improvising believable love stories that go beyond the clichéd first kiss? Heather Urquhart & Jules Munns of the Maydays will take you through a workshop on intimacy and naturalism in scenes. The Maydays are one of the UK's top improv companies and have trained with tutors from I.O, UCB, The Annoyance and Montreal Improv amongst others to develop their own unique style.
Drawing on techniques developed by Heather and Jules in the development of Ten Thousand Million Love Stories and workshopped with Rama Nicholas of Impro Melbourne, this workshop will look at how we can create onstage trust with our fellow players and take our scenes to deeper places both physically and emotionally. We'll also be looking at archetypal love stories and having fun with how you can find love stories in unexpected places!
Note – taking part in the workshop means you get to be in the Fancy Pants Jam!
Sunday 2nd March
2.00 – 4.30pm
Naturalism and Intimacy in Improv
Workshop Price: £25
(MissImp members subsidised rate: £15)
To reserve and book your place please email missimpnottingham@gmail.com

The Corner (home of LeftLion)
8 Stoney Street
(off Broad Street)
Nottingham
http://www.leftlion.co.uk/the-corner/
https://www.facebook.com/events/618714468201956/
Jules  is also Curator of 'Slapdash' London's International Festival of Improvisation and has directed 'Impromptu Shakespeare' Heather is Author of 'Sing it' a guide to Musical Improv and winner of Best Female Performer, Brighton Festival and Fringe Awards 2013
"The Maydays are England's vanguard of long-form improvisation" Jason Chin, Former Associate Artistic Director & Director, Training Centre, iO, Chicago

"The Maydays are an improv ensemble firmly committed to artistic growth and challenge unwilling to settle for simply being awesome. It makes them exciting to watch and a pleasure to work with." Rich and Rebecca Sohn of The Annoyance, Chicago

"The Maydays are one of the Best Groups I have had to Pleasure to Watch, Teach, as well as Perform with…GO and STUDY with These Folks…You Will Learn Improvisation!!!!" Mark Beltzman
Related articles