Yeah, pod you too
I bet you have some electronic device strapped to your head most of the time. I do. Yours may be some fancy iPod, mine is just my phone (albeit with some awesome space age bluetooth headphones). Lots of folks use it for music, which is excellent but more of a shower-time soundtrack for me. I mainly download podcasts and listen to them while cycling to work and ignoring other humans at work. I regard it as a behaviour control mechanism. With other people's words and (potentially) learning dousing my brain I feel slightly less aggressive towards pedestrians in the cycle lane, drivers and humanity in general.
My plan is to attempt education for myself since I hate reading non-fiction and have no wish to attend school. Improv is beautiful when you start getting into details and specifics. You can also never know what the audience will throw at you or what might tumble out of your team's faces. It's important to know something about everything. That said I cannot abide pop music or reality TV and fail to muster the slightest interest in following sport. Instead I'm going for the stuff I never learned properly at school (except maths. I don't need maths. I have Excel at work).
Put them in your ears
It's points two and three of my five point plan to be a less ignorant moron: get a great mix of science programmes (ScienceTimes RSS and EarthSky RSS are short and sweet), some more skeptical stuff, which may not be everyone's demi-tasse (Skeptic's Guide to The Universe RSS, Little Atoms RSS and MonsterTalk RSS) and some brillant Ozzie programmes on philosophy and psychology off of t'ABC network (All In the Mind RSS and The Philosopher's Zone RSS). Clearly I could spin this as providing me with new perspectives on existence, reality and character – and if you'd like to see me that way then I shall not protest.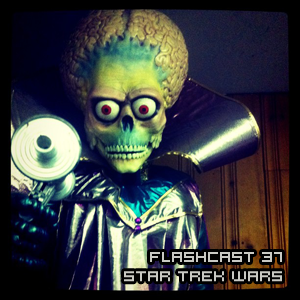 Now that's the proper learning out of the way (absorbed subliminally I hope) and I have space for some entertainment, which may or may not also inclue vague educational elements. I already imbibe vast quantities of fiction in paper and Kindle format as well as film and television – anything with robots, dinosaurs, steampunk, zombies, aliens – you get the picture I'm sure.  I cannot fail to mention the splendid Flash Pulp (RSS) – an heroic exercise in story telling in the pulp genres, rich in inventive fiction and great conversation. Next up comes WNYC's Radio Lab (RSS) – a whimsically music-centric scienceish show which is utterly delightful. So that's me cultural intake.
Improv leaks into your brain through available orifi
Last and by no means least are the numerous improv podcasts available for download and your pleasure. I only subscribe to a handful – like everything else there are squillions of the damn things.
Musical Improv Comedy RSS – this is an excellent singalong adventure through music in improv. It's finally available as a proper feed so I'm only just catching up on it. Thrillingly we're spending the weekend with these fine chaps! (Heather Urquhart and Joe Samuel)
Improv Resource Centre RSS – erratically published but contains fantastic interviews with improvisors all over America with tonnes of exercises and teaching ideas (Kevin Mullaney)
ImprovLA RSS – longform exercises and theory – very entertaining, rammed to the tits with ideas and enthusiasm (Keith Saltojanes)
UCB Theatre Podcast RSS – more about the improv scene in New York but filled with interviews, banter and improv theory too (John Frusciante and Will Hines)
MissImp Podcast RSS – I'd just like to humbly add our own embryonic improv podcast to that list (I only listen to it so I can re-enjoy taunting Lloydie)
If I had more time I'd listen to a squillion more… so that's how I fill my otherwise dead time.
Fill it, fill it lest you die without words!