Hi guys,Just over a week to go until the show on 26th November at tAO, and we're still in need of a few volunteers. We no longer have someone to do lights, and we're still in need of a couple of people to help out on the doors, plus volunteers to help set up curtains, stage etc, so please let me know if you're available to help out! Either email me at thecharlotte@yahoo.com or let me know at improv tomorrow night. We will need people from about 5.30 onwards to set things up – I'll be there as soon as I can, but I teach until 5pm on Fridays, so I may not be able to get there until about 6pm.I've now sorted out the games list, so for players and anyone else who's interested, here you go:
Get a heads-up on all the shows and courses!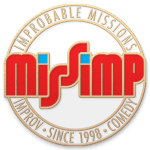 Sometimes people say the nicest things!
"Charmed the audience through their enthusiasm and humour."
"Unique performances that have the audience in stitches."
"Totally bizarre, funny and enthralling. Staggeringly brave. An entertaining set of characters, some great one-liners: incredibly satisfying."
"One of the best comedy nights I have ever been to."
"Fun, inclusive improv. Their patent talent is refreshing, the pace never slackens."
"A whirlwind of different locations and characters, with funny and gloriously bizarre scenarios rolling straight off of the tip of the performers' tongues to come to life milliseconds after they'd been thought up."
"A strong, professional, highly skilled and thoroughly entertaining performance."
"High on imagination, performance and delivery."
"Laughter levels were cranked up to full wattage, which spiralled into utter hilarity."
"A fun filled hour of geeky entertainment."
"The bright centre of the universe."
"The next generation of the Nottingham comedy scene."
"The funniest Friday night available in Nottingham."
Chelsea Clarke, Upright Citizens Brigade NY
"This Missimp group is fucking awesome I love them. So sweet and smart and each with a distinct sense of humor. I love that."
"Not only were the shows great but the crowd was totally into it."
"Very sharp, quick witted & incredibly funny."
"The jam at the end made the night perfect."
During the coronavirus outbreak, MissImp has continued to offer entirely free online activities for our community, including commissioning an ongoing series of paid virtual drop-ins from improvisers around the world, fortnightly online Gorilla Burger shows and more. If you'd like to help us keep these activities going and keep our lights on we'd be immensely grateful. Together, we can get through this.
colin barnfather memorial scholarship application
Please complete all fields
So ya wanna use the library? Cool - first create an account here.